Style Guide: Short Sleeve Shirts
This month we would like to re-introduce the Short Sleeve Shirt that is getting more popular to wear in today's dress down business culture as well as for a smart casual weekends. If you're thinking short sleeve shirts are what 'Uncles' wear, then we would like you to relook at other possibilities of upping the short sleeve style notion. Here's seven ways you can do your Short Sleeve Shirts with us: 
1. Oversize Cut Short Sleeve
You've probably has seen this OVERSIZED trend going around for the last few fashion seasons from designer brands to Uniqlo. You're going to wonder if it is suitable for you especially if you're so used to the tailored fit look with us? Well, it isn't exactly just buying an XXL shirt to wear when you're a size L. There are some tricks to getting this look right and the key is:
wider shoulder cut

straight bodice from chest down

Longer and looser sleeves.

Shirt length remains proportional to your height and not longer!
And Voila! that's how an oversized look is created stylishly.

Photo: cosstores.com

2. Update with a One-piece Collar
Cooper collars, California collars or whatsoever marketing terms some brands has given to this type of collar design, you can just call it one-piece collar as the entire collar is cut without collar stand or seaming at the neckline. It is actually not a new design but a classic collar style brought back to trend in recent years to give shirt collars a new update!

Photo: @qmenswear Instagram. Fabric from Japan.

3. Print Print Prints
This pandemic hit worlds needs more cheerful and happy prints in fashion to spread more positive vibes! We have abundance of print choices from big florals, small floral, abstract art to whimsical themes that bespeaks your personality!

Photo: @qmenswear Instagram. Print fabric from Liberty London.

4. The Guayabera Shirt
If you're familiar with Latin American culture you would probably seen or hear of this Guayabera shirt. If not, it's good to know some cool fashion styles from our friends in the South America side. It has some similarity with safari shirt but the key difference is in the construction of the chest pockets that are integrated with the front bodice vertical pleats. Always worn let out and ideally styled with a Panama hat! 

5. Mix & Match Panelling
If you really like things one of a kind, getting your own mix & match patterns together in a shirt makes it very unique to you as a bespoke shirt should be. Possibilities are endless, so just speak to us if you have an idea in mind for us to actualise it for you.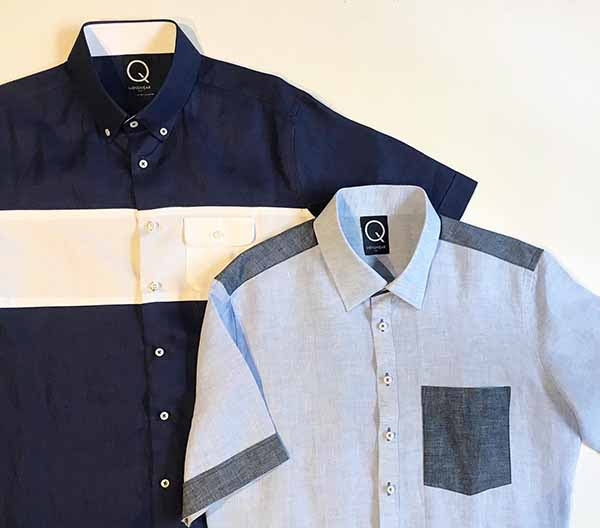 Photo: @qmenswear Instagram. Fabrics from various mills.

6. Going Safari
We always think the Safari shirt is the most style factor for a casual shirt. Be it short or long sleeves. The pocket detailing, belt, back pleats and epaulettes just makes it so chic to wear on its own or over a tee another shirt.

Photo: @qmenswear Instagram. Irish linen fabrics from Spence Bryson.

7. The WFH Shirt (aka PJ style)
This used to be a trending style before Covid-19 days whereby you see celebrities like Ryan Gosling donning such style of shirts. But at this period, we are not sure if someone who has been working from work since 2020 will like or someone who hasn't done any WFH will like to give this style a go? Nonetheless, this could be a personal style factor.

Photo: @qmenswear Instagram. Fabric from Monti.
We hope you're inspired by what we have shared here and if you're considering some short sleeve shirts for your wardrobe, do remember to reach out to us via Call, Email, Whatsapp, IG or FB Messaging. Stay Safe & Stylish!